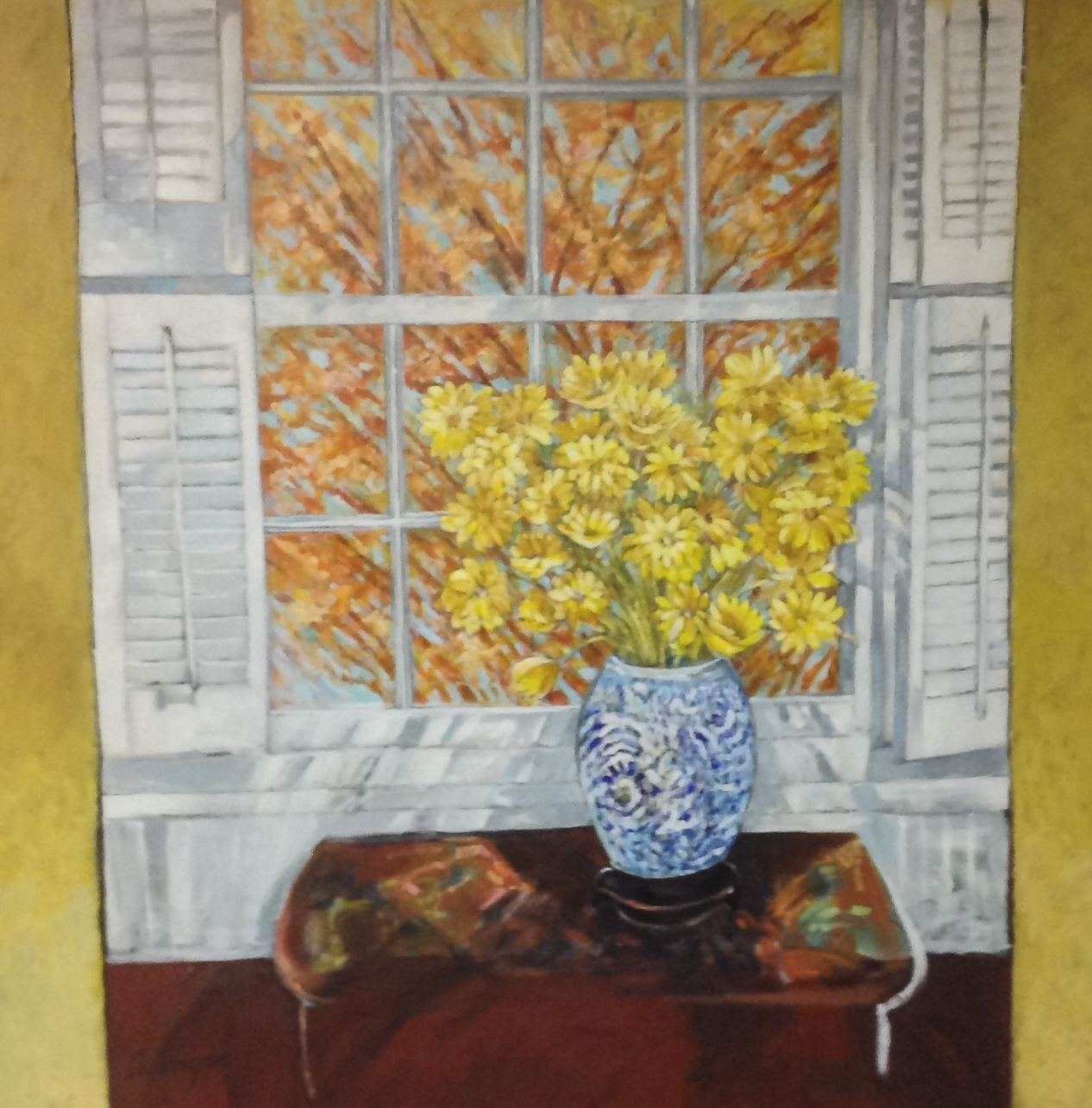 JAIPUR WALLS AND RED TULIPS
I am always looking for ways to reduce my color base and this
still life of basically Blue/Red/and White with some accent shades of green worked for me.
oil on canvas 30"x40"
YELLOW ROOM NASTURTIUM STILL-LIFE
Always looking for patterns that work for me and this
still life arrangement caught my attention
on Canvas 35"x35"
KOI PATTERNS
This is my second Koi painting. By approaching the subject from over head, I have a design working in my mind of realistic subject matter evolving into abstract patterns for the viewer, if that appeals to them.
Oil on canvas - 30" x 30" SOLD
BOB
Born and raised in Hibbing, Minnesota, I was there as the image of Bob Zimmerman evolved into the Bob Dylan of today's world. During my summers of working in the town, I spent one summer working for Bob's dad at their local appliance store. This rendition of Bob was painted with oil sticks and vibrant color in hopes to make it more than a portrait.
il on canvas - 32 x 38" SOLD
DANCING CHINESE HORSE
The clay horse sculptures of china have always intrigued me. Since all I could do is imagine these beautiful trained horses actually doing their dance I had to try and create the moves by color use and bold vibrating paint strokes to assimilate the motion.
Oil on canvas - 30" x 40"
BREAKFAST TIN STILL LIFE
Again the attempt here was to work a still life setting into a geometrical room environment that had shapes of solid color that supported the table setting.
Acrylic on canvas - 46" x 46"
HAYFIELD STILLLIFE
This painting is obviously a combination of visual environments that I have come in contact with in my travels. This wild weed still life in a clear glass vase sitting on a clothed table overlooking a field of harvested hay bales is the outcome. Everything had to work together.
The sky and its patterns are just as important and the vase and the hay field.
Oil on canvas - 32" x 32"
BRULE RIVER BAR
Every year, lord willing, we spend a few glorious weeks on the beautiful Brule River in Wisconsin. This painting came to me as I observed the patterns of light and color generated by the window sunlight as it turned liquids of color into warm tones that reflected off of the bar bottles and glasses.
Oil on canvas - 34" x 34"
MR. CHARDONNAY MEETS MS. PINOT GRIGIO
This composition is an attempt to maximize the transparency of glass and available light as it bounces from one bottle to the next, and through the transparent approach keeps its design pattern showing in the background as the eye moves through it.
Acrylic on canvas - 32" x 32"
COLORFUL CHICKEN
This red, fighting chicken was initiated as an acrylic class demonstration that took on its own quality, with the loose, quick brush strokes and color mix, to turn into a painting I like.
Acrylic on canvas - 18" x 24"
GALWAY GULLS
These Galway Ireland gulls were appealing to me because they were not the traditional gull colorings that I was used to seeing.
Oil on canvas - 24" x 30"
GEORGIA PEACHES
If you haven't picked up on my interest in the patterns that evolve within my subject matter you will now! The Georgia Peaches with an over head light source created a series of shadows and color patterns that had to be painted. As you can see I took some artistic license with the color pallette. I used cool colors warfed over darker tones to again accentuate the design patterns.
SOLD
Oil on canvas - 38" x 38"
HONEYDEW ABSTRACT
The layout and design of the cut pieces of honey dew melon on a white plate on a blue table evolved. Unlike the shapes found in the Georgia Peach painting that has, when you think about it, no loose ends every outline pretty much ends up where it starts. All circles do! When the cut pieces of melons stopped and jumped to another section it started to take on an abstract feel in my mind. I believe if you look at the painting and eliminate most of the color and concentrate on the outlines you will feel the same.
Oil on canvas - 38" x 38"
LILY
Lily the pug is a very friendly dog and is always somewhere under foot. She found her way into my still of the three "p"s: Peaches and cream, Persian rug, and Pug.
Oil on canvas - 30" x 40"
MEXICAN TERRA COTTA PATTERNS
The Mexican terrracota table and the patterns of the table cloth framed the pears creating a nice flow.
Oil on canvas - 24" x 24"
PHEASANT FEATHERS AND CUT GLASS
Once again I have tipped the table to expose the top and subsequently created large solid blocks of color that frame the table setting and keep you in the painting. The painting has kind of an architectural feel to it.
Oil on canvas - 32" x 32"
SEDONA PATTERNS
Each time I sketched and redesigned this painting, I kept coming up short. Finally I found what I wanted in the piece that said Sedona to me. I just had to keep going because I really liked the hat.
Oil on canvas - 26" x 26"
PRESIDENT ELECT
I first came upon the three paper masks of Mickey Mouse, Donald Duck and Peter rabbit and couldn't figure out how the painting could support itself with out some out side subject matter help. That's when the neightbor hood kids came into play. The title injectds the possibilty that one of these three kids COULD be the next president.
Oil on canvas - 30" x 30"
WATERMELON PATTERNS
The colors and subtle patterns and hues of the watermelon have always held my interest. This particular use of the subject matter needed to create its own areas of interest to keep you in the center of the painting. Each segment was painted to try to do just that. The border, the dark background and the color of the rind of the melon all were created for that reason.
Acrylic on canvas - 46" x 46"
YELLOW TULIPS
This still life of yellow tulips was more than that in my version. What happened in the background and the shapes that the vase of flowers creates make it work like a landscape in my eyes Oil on Canvas - 24" x 30" SOLD
STILL LIFE DECOYS
When you prepare to paint a composition whether it is a stationary still life or a landscape the most important part of the painting is the content and how they relate to each other. Oil on Canvas - 30" x 22"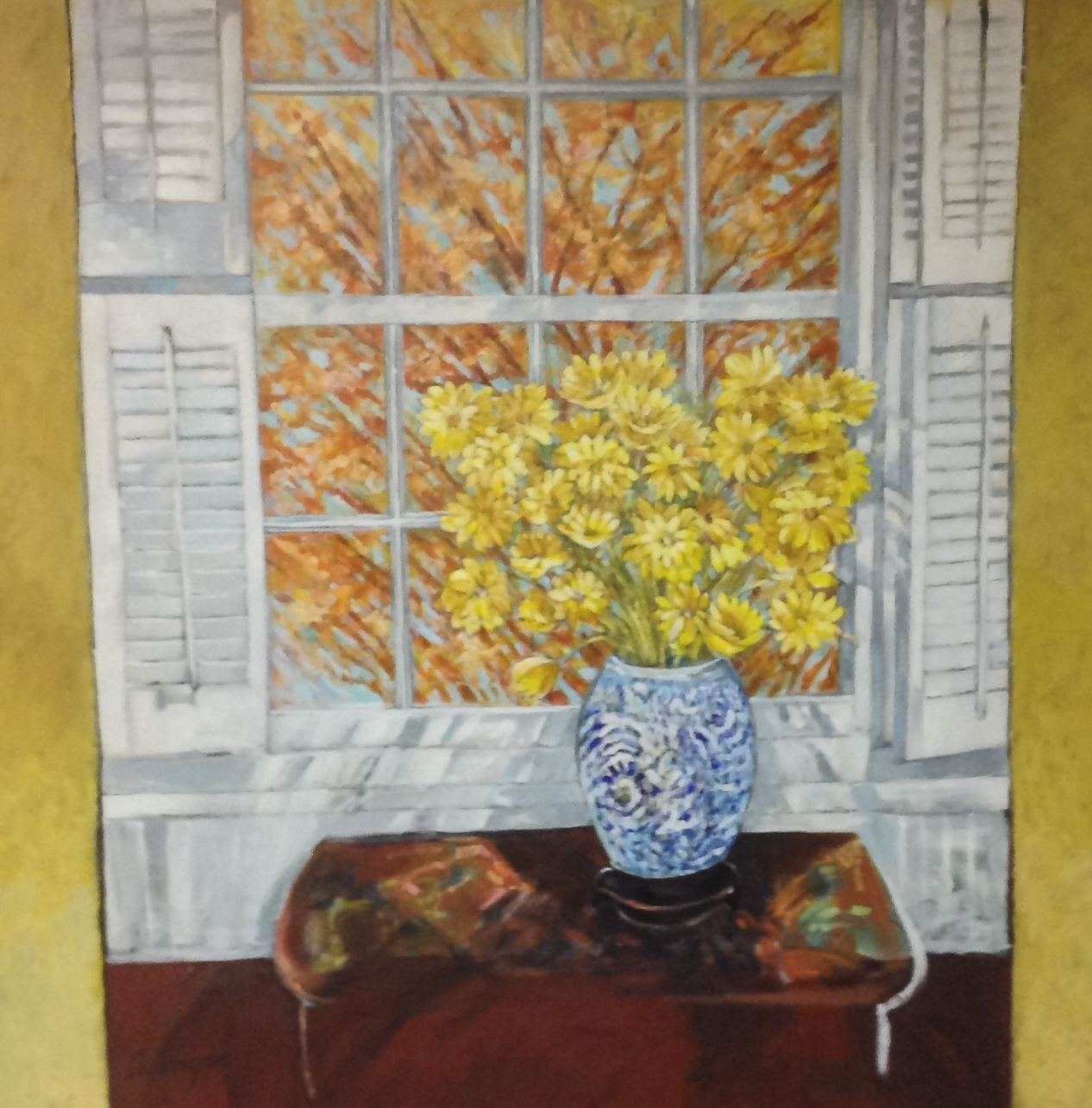 CHANGING COLORS
Changing colors is a image that would emerge every fall as the Maple leafs peeking into our bedroom window appeared down the hallway.
Acrylic on canvas - 46" x 46"
EVOLUTION
This is a combination of two sketches combined to create a whimsical painting. The flowers are a wild combination picked on the Brule River and an Irish cow that caught my eye in Galway, Ireland. The title 'Evolution' is again kind of whimsical in that from my perspective the two are very much connected in the evolution of what the painting is about. Cows eat grass, produce a bi-product, manure, and that bi-product is used to fertilize and grow flowers and plants.
Oil on canvas - 30" x 40"