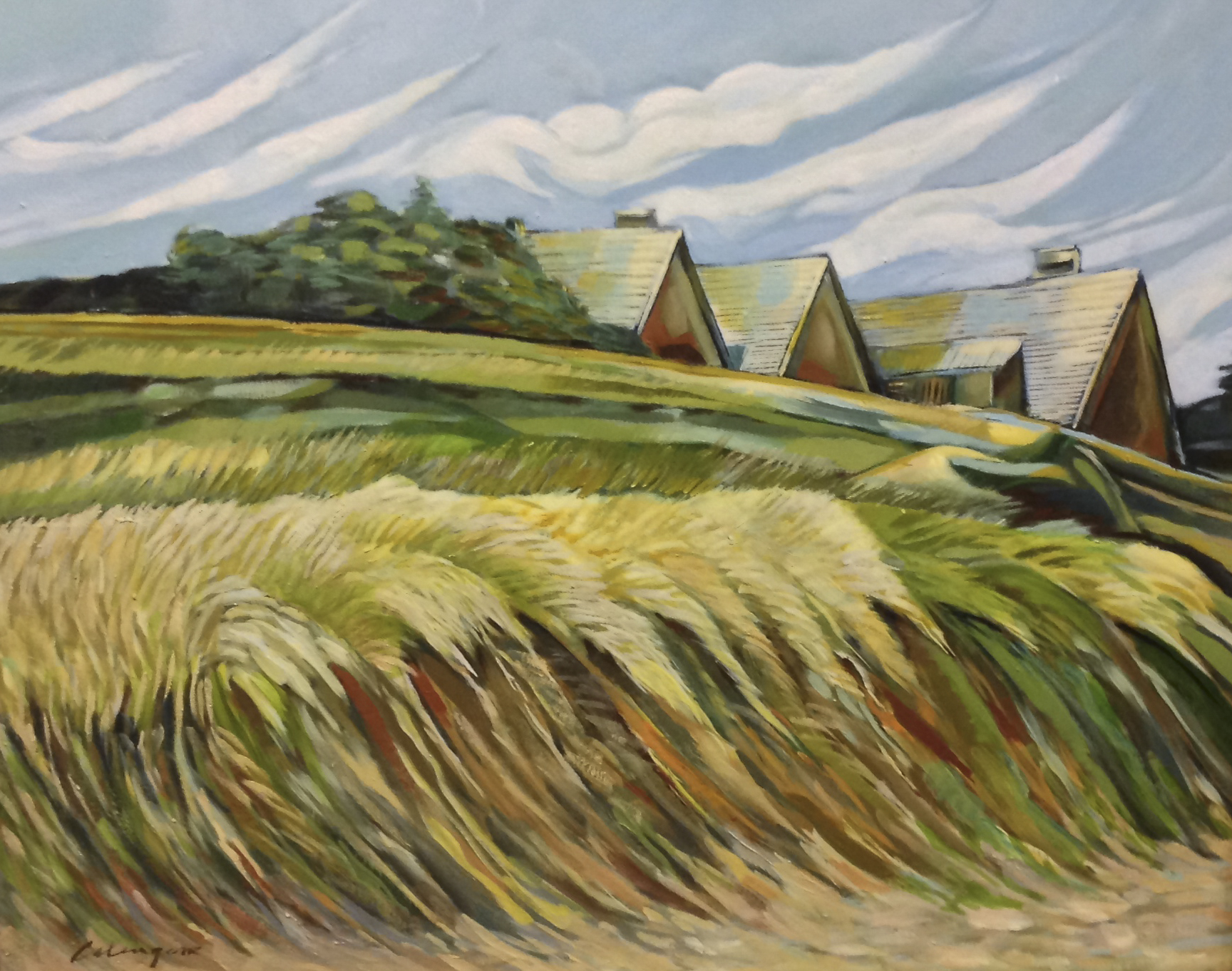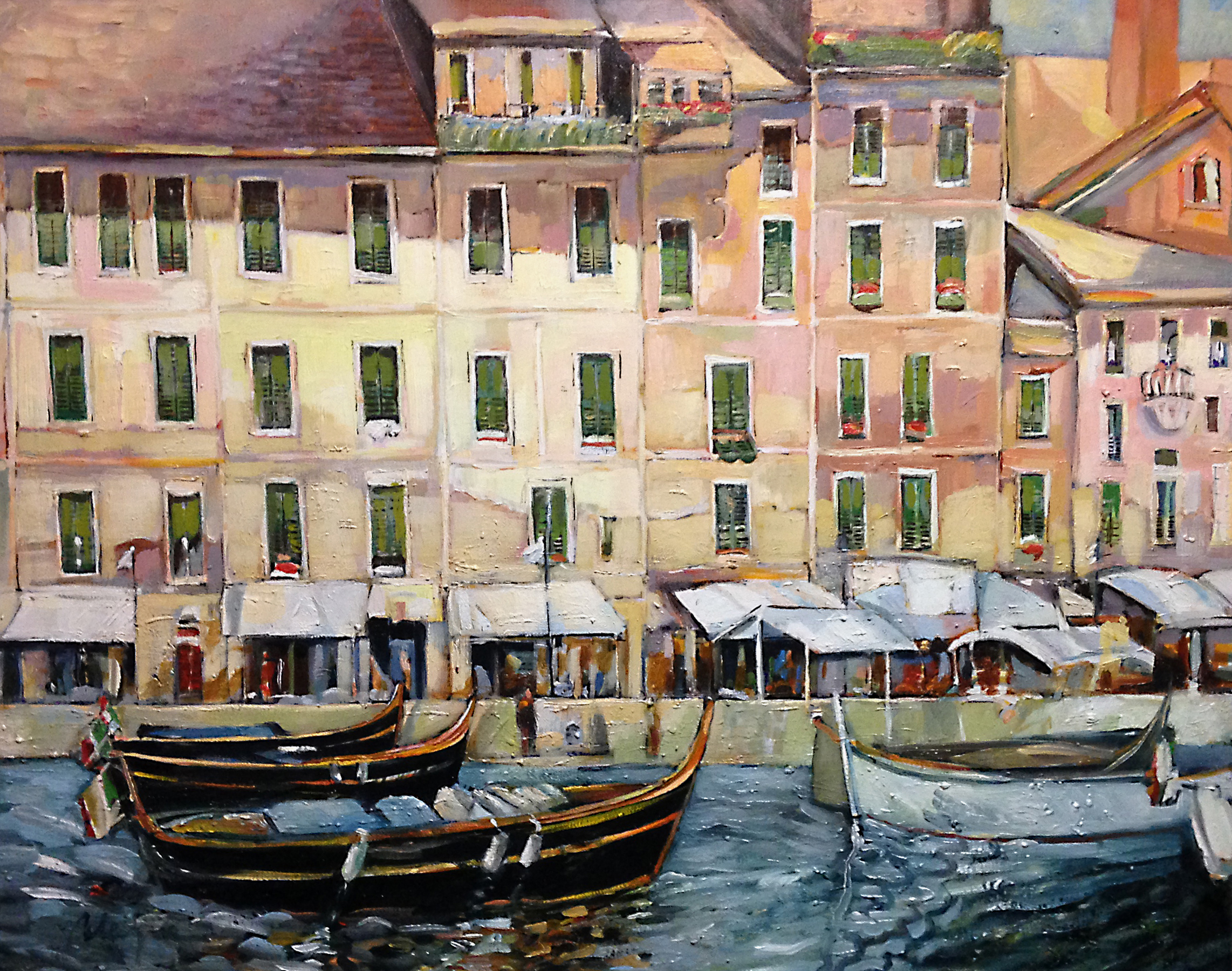 POSITANO ABSTRACT
Put this Italian village on your bucket list, because it as specular
village built on a mountain side on the Amalfi coast.
Acrylic on canvas 30"x40"
LOURMARI
The mountain back ground makes this Cote D Azur
village so paintable.
Oil on canvas 26"x26"
NANTUCKET SHADOWS
The charm of Nantucket and the history of this whaling villages always offered up subject matter that was very hard to resist
painting.
Oil on Canvas - 32"x32"
AMELIA ISLAND
I wonder how many artists have felt they had to paint this Coca Cola signage in this island town.
Oil on canvas - 30" x 24"
BLUEBERRY STORE
This roadside store has been used as the forerunner to the gasoline convenient one-stop shopping stations of today. Located in Wisconsin near Nebagaman it has transformed itself over the years and now serves as an antique store. Gone are the painted white eagles that perched on the original porch. I looked at it every year on my way to the Brule River and it always said, 'paint me.'

Oil on canvas - 36" x 28"
BRULE RIVER FLATS
The Brule River in Wisconsin is one of the more famous trout streams in America and has been the place that I have enjoyed more than any other spot that I have traveled. The 'flats' are a spot on the river that has been the swimming spot for my children, and now my grandchildren, and of course had to be painted.
Oil on canvas - 40" x 30" sold
BUCERIOS MEXICAN PATTERNS
In this quiet Mexican town of Bucerios sits a hotel complex that would have made the abstract painter Piet Mondrian salivate. Color combinations that jump from one structure to another all working together against the constant blue sky on the shores of the Bay of Banderios.
Oil on canvas - 30" x 22"
CARGILL TREES
Winter subject has always appealed to me, and when I coupled the new white snow that covered the ground with these cargil trees, I felt it worked.
Oil on canvas - 30" x 22"
GIVENCHY LUNCH
After a day in Monet's studio in the town of Giverny, France and walking the gardens he painted all his life we stopped outside of the town and enjoyed the French country side. The tall cypress trees formed a barrier from the elements and a background to the flax colored fields that surrounded Giverny and over lunch this sketch created the painting.
Oil on canvas - 36" x 28"
HANGING ON
This Wisconsin farm roof line always appealed to me as I drove past it time and time again. One day I stopped and captured this barn hanging on before gravity and nature took over.
Oil on canvas - 34" x 34" SOLD
MEADOWLANDS WINTER
After my commission paintings by Massey Ferguson I never saw a farm scene that I would not want to paint. This group of buildings was one of those that caught my eye. I painted it in as a winter scene because that was what made it work for me. No real patterns, just cold white colors.
Oil on canvas - 30" x 24" SOLD
MILLER FARM
This Minnesota farm scene was a field and sky colored pattern that caught my eye.
Oil on canvas - 30" x 24"
MOBIL HOUSE
I can't tell you how many times I drove by this house in the back roads of Wisconsin without stopping long enough to sketch it and record the color combinations. The house had a story and it was so patriotic looking and loyal to rural America that it had to be painted.
Oil on canvas - 30" x 24" SOLD
NANTUCKET LIGHTHOUSE
Oil on canvas - 24" x 24"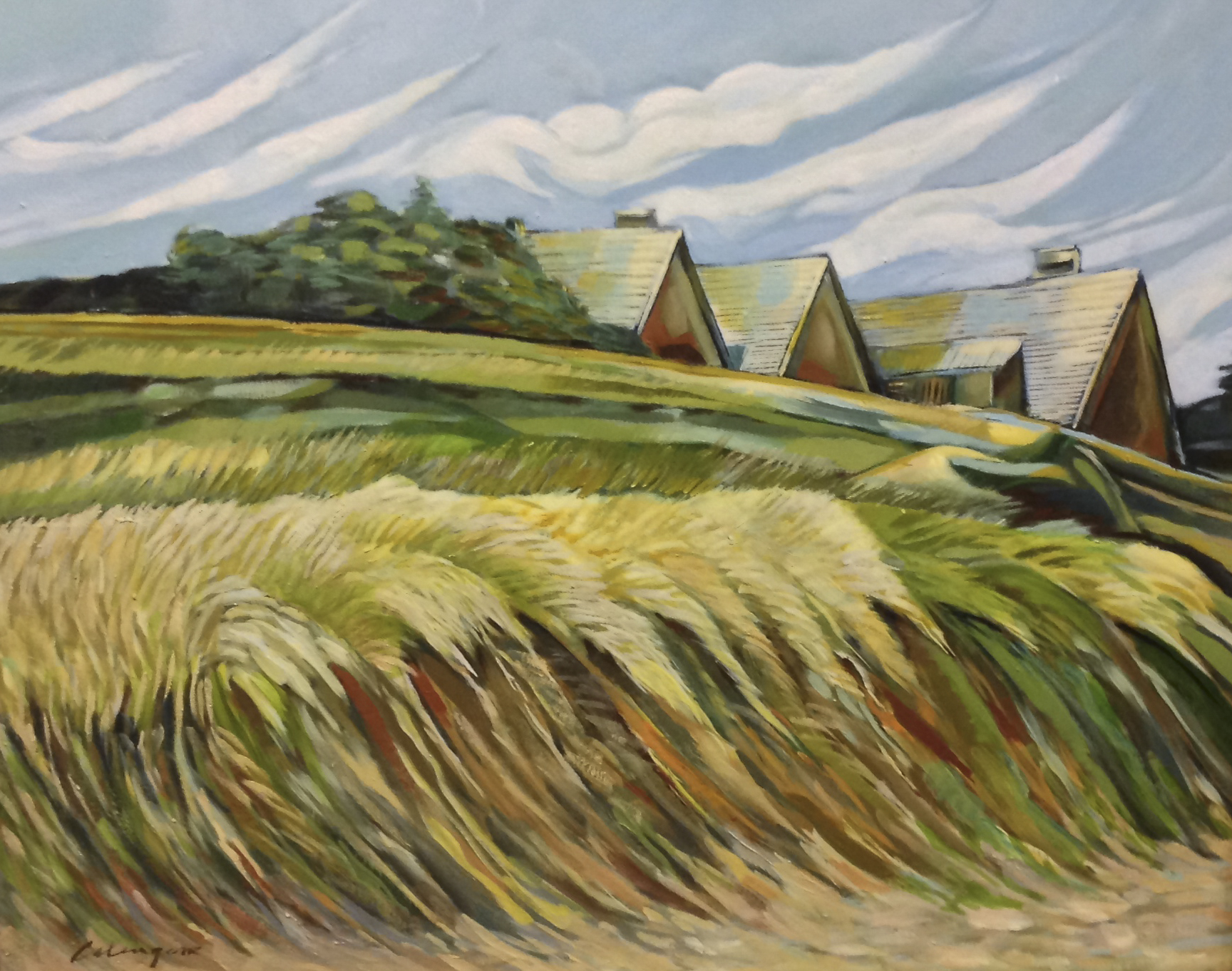 NANTUCKET
While walking the Cisco beach on the island of Nantucket, I looked up and saw these roof patterns cutting into the bright blue sky. The yellowed grasses blowing in the wind added to the final painting.
Oil on canvas - 30" x 24" SOLD
NOYES CAMP BOATHOUSE BRULE
I have been fascinated by this structure for over fifty years. The boathouse is a famous cedar building situated on the Brule River, a famous trout stream in Brule, Wisconsin.
Oil on canvas - 30" x 24"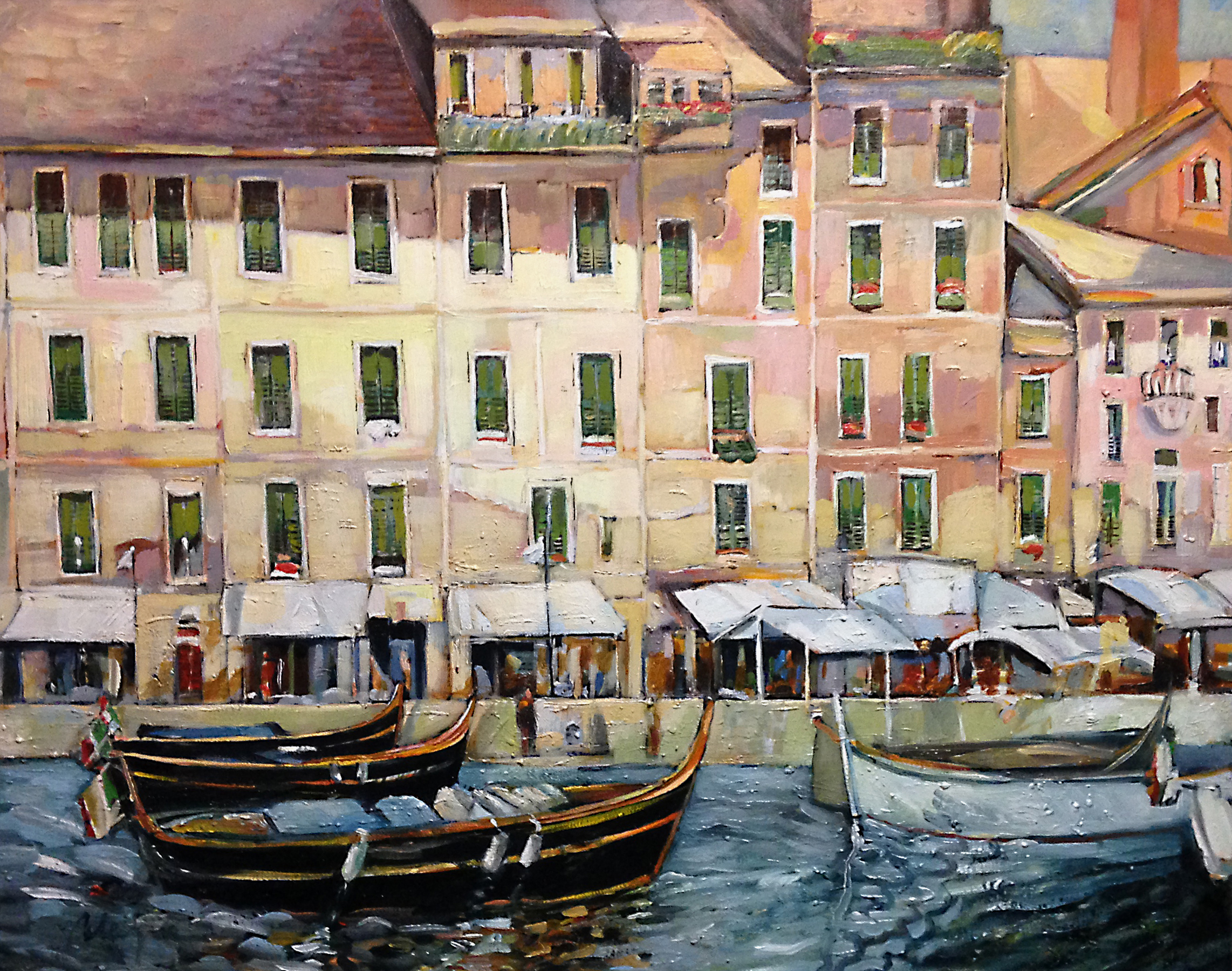 PORTOFINO
This Italian coastl town has always been a much painted piece of subject matter. I just coundn't resist.
Oil on canvas - 30" x 24"
POSITANO
Every inch of this sea side village of Positano, Italy is busting with color. Whites, Pinks, Magenta, and soft pastels pop out from the hillside. Located on the Amalfi Coast in southern Italy. This painting exposes the architectural design of the area and just one of its many churches. Positano is a must.
Oil on canvas - 30" x 40" sold
RADDA PATTERNS ITALY
If you have not traveled in the Tuscany region in Italy- you must add the region of Radda famous for its Chianti grapes. The field patterns with its rows of grape vines going in all directions divided up by rows of Cypress trees caught my eye.
Acrylic on canvas - 30" x 24"
REVELLO SENTINEL
When you climb the steps to this Italian beautiful city overlooking the Amalfi coast and the gulf of Salerno you get the feeling that this ancient church has seen it all, from the world warll landings on the Salerno beachs to the twenth century daily problems.
Oil on canvas - 30" x 30"
RED BARN PATTERNS
This painting is of a Wisconsin farm at early morning mist. At one point in my painting career I was commissioned to do a calendar series for the Massey Ferguson Company mingling the Massey Tractors of early development and the classic barns of North America. I have had an attraction to them ever since. Always looking for the odd and the non-traditional points of view to bring them to canvas.
SAN GIMIGNANO ABSTRACT
This walled in city found in Tuscany Italy with its towering family strong holds gave me a feeling that bordered on a abstract composition.
Oil on canvas - 40" x 32"
SCOMA'S
Sausalito Landmark
Oil on canvas - 40" x 30"
SNOW PONIES
This painting originated in Finland and was conceived during a snow fall that covered the plowed fields which make up the foreground of the painting and almost made the horses fade into the blowing snow and the background of the trees.
Oil on canvas - 36" x 28" SOLD
SPANISH STEPS SHADOWS
The spanish steps in Rome attracted my eye as the shadows set and created interesting patterns and reflections , Kind of dividing the painting into three areas.
Oil on canvas - 30" x 24"
ST. PAUL de VENCE
After a day of sketching this most popular French village in the south of France, I came to the conclusion that every attempt looked like a version of what you would see in each of the local galleries. I again looked for the patterns and did not concentrate on the actual visuals and the result is quite different from most of my paintings. The trees and the village shape popping out of the hillside came to the canvas.
Oil on canvas - 32" x 32"
SUMMER BIRCH
Patterns of color vibrate all through this transparent painting of summer time birch as their leaves start to turn. This burst of color dots said impressionist to me, and my brush stroke responded. The composition, along with the shadow patterns, join in to make the painting work for me.
Oil on canvas - 40" x 30" SOLD
WAYZATA DEPOT
The Wayzata Depot has been painted many times, but always from the street perspective. After a cruise on Minnetonka on a bright sunny day, there it was, all lit up in its summer glory. So I spent the afternoon sketching and photographing it, and this is the result.
Oil on canvas - 24" x 30"
WENTWORTH UNINCORPORATED
This farm scene is a composition of patterned shapes touching another and pulling you either back or forward into a final stop in the dark hole of the hay loft.i
Acrylic on Canvas - 30" x 20"
WISCONSIN FARM PATTERNS
This is about as close as you can get to a abstract painting in my disciplines listed on my site. I created this farm field and a very stimulated cloud design that traps the farm buildings on the horizon line. The field patterns of color start and stop than break off like abstract pieces as they shape the composition. Oil on Canvas - 24" x 24" SOLD
WINTER BIRCH
I came upon this stand of snow-covered birch in northern Finland. It was a very heavy snow and as the snow came to rest on the birch limbs it crystallized and the branches took on the look of cold metal. I left the color tones sharp with cool blues contrasting with the shape of the trees to convey to the viewer that it was a cold day.
Oil on canvas - 30" x 40"
NANTUCET BACK BAYS
looking back at the Nantucket harbor filled with sailboats of ever size and color this view from one of the numerous back bays gave me this change in pallet with its almost colorless sky and opaque foreground.
Oil on Canvas - 24" x 18"
HAYING UP
I'm old enough to remember the conventional rectangular hay bales of the past that dotted the farming communities in the midwest. The round bales are now everywhere and a constant reminder that everything changes.
Oil on canvas - 28" x 28" SOLD
NORTH SHORE BIRCH
Oil on Canvas - 18" x 24"
NANTUCKET LANDSCAPE
With the busy harbor shapes in the back of this painting and the contrast of the fields leading your eyes to the peace and quite of the front of the sheltered harbor I tried to depict those two moods in this nantucket.
Oil on canvas - 40" x 30"
ITALIAN WINERY
While traveling from Florence into Tuscany this combination of shape caught my eye, so we stopped to sample the Chianti.
Oil on Canvas - 28" x 28"